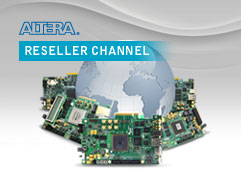 Altera Corporation (Nasdaq: ALTR) has announced that Terasic Technologies, Inc., is now an official Altera Global Kit Reseller, giving Terasic the capability to
market and distribute all Altera official development kits. Altera's development kits comprise of programmable hardware design solutions that span the entire Altera family, including the low-power, cost-efficient MAX CPLDs up to top-of-the-line Stratix FPGAs. For the full range of Altera kit solutions, please visit http://altera-kits.terasic.com .
Terasic was founded in 2003 with the goal of providing educational programmable development kits that emphasized real-world applications, helping drive the success of the Altera University Program with the line of extremely popular Development and Education (DE) boards. Since then, Terasic has expanded its design applications to various fields such as prototyping, industrial, medical, financial, and more. As of 2007, Terasic has also established itself as the official manufacturing partner – and sometimes designer – for Altera kits as well.
Terasic's success lies in the ability to provide full-bundle customized solutions , combining development kits with an assortment of daughter cards which focus on a wide range of applications including networking, storage, multimedia, interface conversion, and AD/DA. For the full list of daughter cards, please visit http://cards.terasic.com . With over 30 available daughter cards, engineers have access to hundreds of different configurations to fully meet their project specifications and requirements.
Alongside hardware, Terasic also provides open-source IP that is packaged with every product, allowing users to set up a fully functional design without having to touch any code. In addition, bundled with every kit is system generation software that
allows for easy selection of daughter cards to generate a top-level design in seconds, without the need for tedious pin assignments. The software allows for the customers to focus on what's truly important – design.
"By enabling Terasic to become a formal reseller of Altera development kits, customers will be buying from a company that already has extensive experience in this field, a company that really cares about the success and satisfaction of world-wide development kit users," states Terasic CEO Sean Peng. Mr. Peng further added, "Given our manufacturing partnership with Altera, our knowledge of the products is through and through, allowing us to provide the absolute best technical support for customers."
With the newly announced partnership as a Global Kit Reseller, Terasic aims to leverage its expertise in providing bundle solutions to the existing base of consumers, as well as capture new markets. The addition of Altera development kits will enable an even more robust set of solutions and applications. Terasic hopes to benefit customers with its "one-stop shop" philosophy, broad development kit experience, and professional, dedicated support.